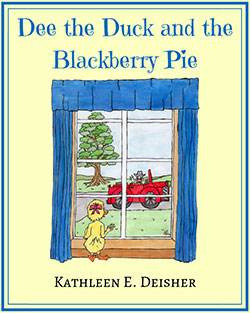 Sometimes Things Don't Go As Planned
A little duck named Dee wants to give Papa Duck a gift and plans to bake a lemon pie for him, but the duck family has no lemons! Sometimes things don't go as planned! Again and again, the duckling and her mother hunt for ingredients so she can bake a pie, but Dee fails because the ducks need groceries. When difficulties arise, will Dee the Duck keep a good attitude?
Dee receives a delightful present when she goes to help her neighbor, Rupert, with a task assigned by his mother, Mrs. Rabbit. After a pleasant morning of working and playing with her friend, Dee returns home to bake her gift for Papa. Soon she finds out that Papa has his own surprise for her.
Kathleen E. Deisher created DEE THE DUCK AND THE BLACKBERRY PIE for storytime. This new charming picture book is an entertaining, interactive read-aloud book and reminds the reader of love between parents and their children. The story teaches the power of making the best out of unexpected setbacks. Children enjoy helping to read this heartwarming book by calling out highlighted phrases—even pre-readers can join in the fun.
The author illustrated and wrote this story to encourage children to be thoughtful and to keep connections with family and friends. The reader will learn the value of showing appreciation for others in creative ways. Children enjoy sharing in Dee's frustrations and triumphs. They may want to bake their own surprises for those they love.